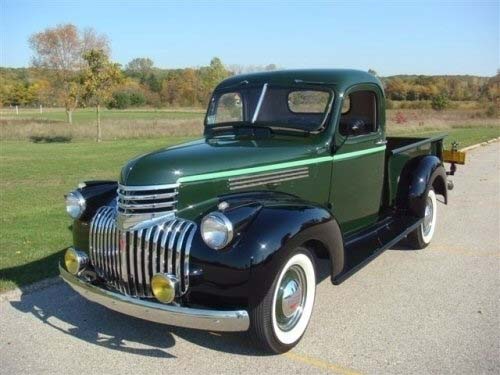 This truck has been in the same family since the 1960's. Tim, the current owner and restorer, got the truck from his uncle back in 2001. Tim's father originally bought the truck used in the mid 60's and kept it through the late 60's. That's when his uncle bought it and "upgraded" it to the newer 1947 Advanced Design. At some point it got some more advanced designing in the form of chicken wire and bondo along with a new wood bed. Eventually it found its way into an old dairy barn in the early 1980's when a master cylinder went out. It stayed there until 2001 when Tim got it.
What you see here is years of dedication moving this around along with his family during career moves. I had the good fortune to meet Tim before he left and he contacted me upon his return to Wisconsin. I have included pictures that go outside of the scope of what I worked on to show what a beautiful piece of work it really is. It has been in Vintage Truck magazine and was the cover truck in VCCA G&D magazine. It has received numerous awards from all levels of shows from local shows to Concours level events. In 2013 it received a gold award from VCCA after being judged for the first time in a sanctioned VCCA meet. I invite you to go to www.46chevytruck.com to see the whole story.
Congratulations Tim on a job very well done.
(Click on any image below to view larger size.)